5 Reasons why language learning should be part of your business development training in 2024
In today's world, we can get almost anything we need at the touch of a button, including flights from one side of the globe to the other, or services that may not be available locally. The ability to speak with and see a client within seconds by video call is fascinating! However, with these advances comes challenges, often in the form of language barriers. What can you do to overcome this? Hire an interpreter? Introduce pocket translators? An invaluable assist that you could bring to your business is language learning. There are numerous reasons why language learning should be part of your business development training in 2024. Here are 5 of our top reasons why this should be prioritised:
1. Expand and Strengthen Your Business Connections 
Language learning within your business can open more doors than you may realise. English is a leading global language and the lingua franca for many professionals. Enhancing your English language skills and introducing other languages to your business will benefit your business both internally and externally.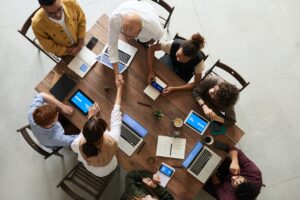 Firstly, your business can grow organically if you incorporate language learning into your business development training. How? You can expand your customer base if you can communicate in the customer's native language. This instils confidence in your customer and can put them at ease. 
Additionally, introducing English language learning into your business development training can also boost your business in markets where English is the first language. We all want to make our businesses successful, and oftentimes moving into the bigger world markets brings about more opportunities. Having strong English language skills among your team can only prove beneficial when you are expanding your market. 
2. Business Development Training and Language Learning to Boost Morale
"One language sets you in a corridor for life. Two languages open every door along the way." – Frank Smith (author) 
A healthy workforce is a happy workforce! A key factor to your employees' happiness is to keep up their morale. Of course there are many ways you can boost morale among your employees, and you may ask yourself, "how can I do this going into 2024?" Learning a new language or developing existing linguistic skills can bring your team together in a way it may not have before. Not only does language learning enhance your communication skills, but it has been proven that people with more than one language can think differently too, generating more productivity! This can have many benefits to your business as well as your staff's morale! 
When investing in language learning as part of your business development plan for 2024, your employees do not need to take on this journey alone. Group lessons are a fantastic way to encourage your team to bond, to practice in a safe space and also to boost their morale. This is also an opportunity to make this business development training fun; why not host movie nights for your staff? How about organising language lunches? 
Here at Everywhere English we can help you achieve your language learning needs! We understand the importance of enhancing your business development training but also the importance of obtaining your staff's wellbeing and boosting morale. We offer a range of group lessons and one-to-one tuition, and cater to your business needs. Book a consultation with us today and get a head start on your journey for 2024! 
3. Multilingualism Can Promote Economic Growth
Nurturing and promoting languages in the workplace has proven to boost economic growth. By breaking down language barriers, you are welcoming more opportunities. 
Studies have shown that linguistic diversity within a country can result in stronger economic growth. The same applies to businesses, whether they are large, medium or small enterprises.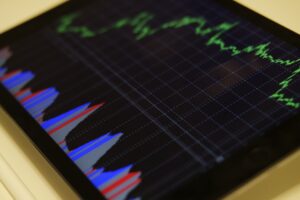 Businesses who invest in language development often open the door to further trade. Trade relations are important for expanding your international market. If you can speak your client's language, you are welcoming more opportunities to your doorstep. According to studies conducted, companies who included languages in their business development began exporting more goods. 
As well as expanding your trade relations, further linguistic development within your business gives you the opportunity to build relationships with customers and clientele. It is also a chance to create a new customer base by offering services in more than one language. 
4. Language Learning Benefits Brain Health 
Your health is your wealth! 
As we know, implementing language learning in your business development training can benefit your workforce mentally. It can boost morale and create a happy and productive team. Did you know that language learning can actually improve your brain health?
Keeping your brain active can be imperative for preventing diseases such as dementia and Alzheimer's. Language learning has been proven to delay the onset of both diseases. If you practice your linguistic skills even once a week, this can improve your brain health little by little. According to a number of studies conducted, adults who undertake frequent language learning can delay the onset of Alzheimer's by roughly 5 years!
Reading and writing is fundamental to keeping your mind active, so try adding to this activity through language learning! 
5. Productivity Through Inclusivity 
Globalisation is key to many businesses! If your business has several global offices, introducing language learning to your business development training can show that you value your workforce. By offering lessons in the local language or other languages spoken among staff, it shows you care for each employee and their cultures. You may even hire employees from other countries. Including language learning in your 2024 business development training will provide opportunities for employees to learn both the local language and languages of their colleagues. This gives everyone a chance to integrate, learn about new cultures and can result in a happier and more productive team.
Additionally, if you have offices across a number of countries, language learning can also be an incentive for your employees to move from one office to another within your company. Mobility and flexibility within the workplace is a massive perk!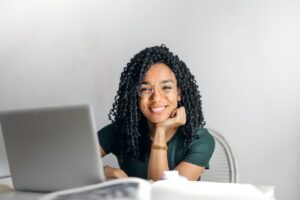 2024 is just around the corner and we will all be thinking about our New Year's Resolutions. As part of your business development training for 2024, why not incorporate language learning as part of your plan? It will be one of the most rewarding decisions you will make this coming year!