English Terminology You Need to Know Before Visiting Ireland for the Ironman 2023
Dia dhuit! (Hello!) If you're gearing up for the exhilarating Ironman event in Ireland, get ready for a true test of strength, endurance, and determination. The Emerald Isle offers a picturesque backdrop for this epic triathlon, but before you dive into the action, it's essential to familiarize yourself with some English terminology specific to the Ironman. Not only will these terms help you navigate the event smoothly, but they'll also enhance your overall experience in the Irish triathlon community.
This blog is to help non-native English speakers have the best experience. To know everything in detail about the upcoming event, visit the official Ironman site. So, let's dive into the 15 must-know Ironman terms that will make your journey to Ireland even more exciting!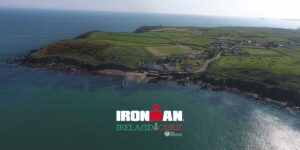 1. Ironman Triathlon
Let's start with the basics! The Ironman is a long-distance triathlon race consisting of a 2.4-mile (3.86 km) swim, a 112-mile (180.25 km) bike ride, and a full marathon run of 26.2 miles (42.20 km). Completing this challenging course is a testament to an athlete's mental and physical prowess.
2. Transition Area
During the Ironman, you'll encounter "transition areas," where athletes switch between disciplines. T1 is the first transition from swim to bike, while T2 is the second transition from bike to run. Efficiently navigating these areas is crucial for a smooth race.
3. Wetsuit Legal
Ireland's waters can be chilly, so "wetsuit legal" refers to whether wearing a wetsuit during the swim is allowed based on the water temperature. Donning a wetsuit aids buoyancy and helps protect against the cold. Thankfully, wearing a wetsuit for the swim is not only legal, it's recommended!
4. The Rebel County
You may hear "the Rebels" quite a lot when you're in Cork, Ireland. This is the nickname of Cork County. Ireland is one of the friendliest countries in the world (and we were voted the best fans of all the Ironmans!). The Rebels is a true representation of our rebellious nature. Get ready for some fun!
5. Energy Gel
An "energy gel" is a portable, easy-to-digest, and quick source of carbohydrates and electrolytes to fuel athletes during the race. They are often consumed during the bike and run segments to maintain energy levels.
6. Bonk
In endurance sports, "bonk" is a dreaded term. It describes a state of extreme fatigue and depletion of energy reserves, often leading to a sharp decline in performance. Avoid the bonk by staying hydrated and properly fueled throughout the race.
7. Brick Workout
A "brick workout" involves combining two disciplines of the triathlon without a break. For example, practicing a bike-to-run brick helps the body adapt to the challenges of transitioning from one leg to the next.
8. Swim Cap
During the swim leg, athletes wear brightly colored "swim caps" to enhance visibility in the water. The caps also help officials identify participants from a distance.
9. Sighting
"Sighting" is a technique used during the swim to navigate and stay on course. Athletes lift their heads to see visible landmarks or buoys to swim in a straight line.
10. Ironman Cut-Off Time
Every Ironman race has a "cut-off time" within which participants must complete the course. Athletes failing to finish within this time are disqualified from the race. Each leg has its own cut-off time, so make sure you look it up!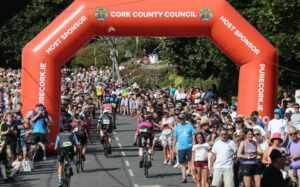 11. Penalty
This is a dreaded word! We recommend reading the rules and regulations carefully. Any breaking of the rules during the race may result in a time penalty. This means you'll get time added to your finish time at the end.
12. Chute
The "chute" is the narrow path leading to the finish line. As you approach the final stretch, the crowd's cheers and adrenaline will carry you through this memorable passage. This has been an unbelievable experience. The end of the race is by the quay in Youghal where hundreds of fans will be cheering you on to finish. (And yes, everyone will stay there even if there's rain).
13. Kona
"Kona" holds a special place in the hearts of triathletes. It refers to the Ironman World Championship held annually in Kailua-Kona, Hawaii. Qualifying for Kona is a dream for many athletes.
14. Tri-suit
A "tri-suit" is a one-piece garment designed for triathletes, suitable for all three disciplines. It provides comfort and quick drying, allowing athletes to transition seamlessly between swim, biking, and running. You don't much of them, to be honest. Most will change after the swim.
15. Transition Bag
This is exactly what it sounds like. They are bags that are placed in the spot where you'll start, where you'll go from swim to bike, and where you'll go from bike to run. There will be a white, red, and blue bag for each competitor.
With these 15 essential Ironman terms in your arsenal, you're all set to take on the challenge of the Ironman 2023 in Ireland. The breathtaking landscapes, enthusiastic crowd, and spirit of camaraderie among athletes will make this a truly unforgettable experience. Here are some of the main locations you'll need to know:
Locations of the Ironman, Youghal
Front Strand: This is you're starting point and the long stretch of beach where the swim will take place.
Greenpark: This is the main transition area. It's as it sounds (yes, we're very inventive with our names). It's a green park that's located at the end of the beach.
Windmill Hill: This is the famous hill that you must cycle up. It's in the town. You may hear locals asking you "Are you ready for Windmill Hill?"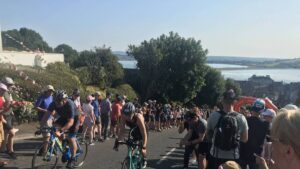 Back Street: Youghal is a one-way system. We have the main street that goes from Midleton to Dungarvan direction and "the back street" which goes the opposite way and has views of the sea.
The Quays: The quays is both the quay and ending point and the quays bar is located next to it. Make sure that you ask someone to confirm which one if it comes up in conversation.
Barry's Lane: Believe it or not, this is a square, not a lane. It connects the main street and the back street and is where a lot of spectators will hang out.
Whether you're navigating the transitions, sighting during the swim, or bracing for the "chute," understanding these terms will enhance your Ironman journey in the Emerald Isle. So, put on your tri-suit, dive into the Irish waters, pedal through scenic landscapes, and dash towards the finish line with a heart full of determination. Best of luck, and enjoy the thrill of the Ironman in Ireland! Slán go fóill! (Goodbye for now!)